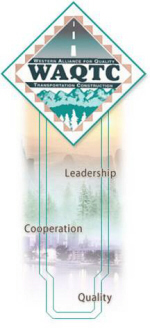 About the WAQTC
The Western Alliance for Quality Transportation Construction (WAQTC), is a partnership formed to continuously improve quality in transportation construction through qualified personnel and quality products and services.
WAQTC is comprised of representatives from Alaska, Colorado, Hawaii, Idaho, Montana, Nevada, New Mexico, Oregon, Texas, Utah, and Washington, and the Western and Central Federal Lands Highway Divisions of the Federal Highway Administration.
WAQTC Registry
You can browse the Montana WAQTC registry or do a search for certified technicians.
Test Methods
Aggregate | Asphalt | Concrete | Embankment & Base | In-Place Density | ...All Test Methods
Certification Training
Training is available to everyone and is free for all Montana Department of Transportation (MDT) employees. If you are not an MDT employee please register and pay online. NOTE: The Internet Explorer browser will not work for payments. Chrome or Edge are recommended.
Training Calendar | Materials List | Registration, Policies & Information Handbook
You may also be interested in these free videos:
Basics of Concrete
Sampling of Concrete WAQTC TM 2
Temperature of Concrete AASHTO T 309
Slump AASHTO T 119
Questions?