Toston Structures Project

Project Overview
Current Project Status
Work on both bridges resumed on Monday, December 2nd and will continue as weather allows throughout the winter season. Road work has been discontinued until spring of 2020. As a result, there will be no signal lights, flaggers, pilot cars or rumble strips. Traffic will be able to move on both lanes of the existing road at a speed of 55 mph, and on both lanes of the existing bridges at a speed of 35 mph until road construction resumes in the spring.
Construction on the Toston Structures project is scheduled to begin in April 2019. The project is in Broadwater County, south of Townsend on US 287 near Toston. Construction begins one mile north of the existing bridges and ends just past Radersburg Road (Secondary 285) on the south end. This route is important for residents, agriculture, freight, and recreation. It is also popular for tourists traveling between Yellowstone and Glacier National Parks.
The Toston project improves safety and addresses current and future traffic needs. The existing roadway and bridges are over 70 years old and no longer meet transportation design, environment, or safety standards. In a recent 5-year study, this stretch of road has had higher crash frequency and more severe crashes than similar roads.
The project includes construction of 3.5 miles of new roadway, some of which will be moved over to connect to the new bridges over the Missouri River and BNSF railroad tracks. The two new bridges will be wider than the existing ones and will also include more room on the shoulder for walkers and bicyclists.
Construction also includes a new culvert at Six Mile Creek, a tunnel for pedestrians under the new bridge structure, a school bus turnout (off Radersburg Road), installation of wildlife fencing, and intersection improvements. After the new roadway and bridges are completed, the old roadway and bridges will be removed. Construction is expected to take two seasons (2019 and 2020) and to be completed in the spring of 2021.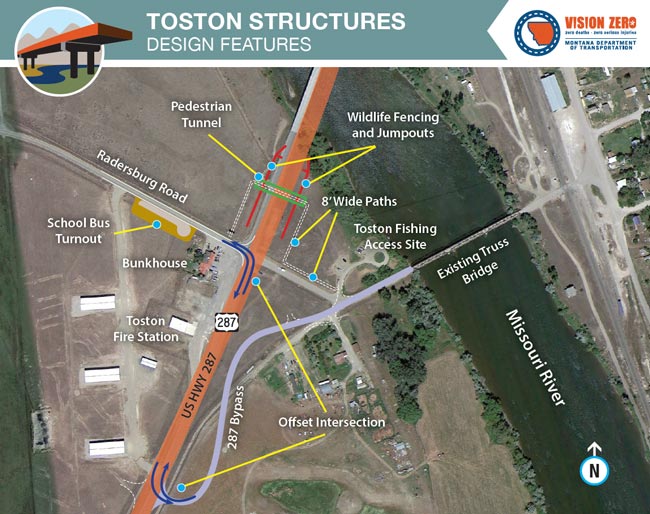 Comments
The Department welcomes your comments on the Toston Structures project.
Please feel free to submit comments:
Online:
Fill out the Comment Form.
Mail:
Montana Department of Transportation
PO Box 201001
Helena MT 59620-1001
Indicate comments are for project CN 7668.