We would argue that Montana is the most beautiful state in the United States. How many people can say that they are just a few hours, or even just mere minutes, from the most gorgeous scenery in the world, no matter where you are in the state?
But our state's great beauty is a constant project alongside our roads - unknowingly to motorists, things fly out of their vehicles and litter nearby ditches. It is up to us to volunteer to keep our Montana as gorgeous as it has been for hundreds of years.
Guard, protect and cherish your land, for there is no after life for a place that started out as Heaven.

-Charles M. Russell
Benefits for Our State
Traffic Safety - Highway trash can pose a traffic hazard, especially items that blow onto the highway. Keep our roads safe!
Wildlife Safety - Highway litter can injure wildlife, especially small animals that may get trapped in plastic or try to consume it. Keep our wildlife safe!
Environmental Safety - Highway litter can post an environmental hazard, especially chemicals that can leak into soil or water as their containers decompose. Keep our environment healthy!
Attractive Environment - Highway litter can be unsightly. Keep Montana Beautiful!
Program Details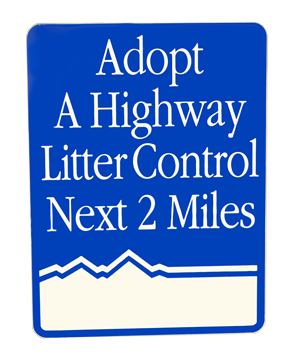 Who should adopt?
Individuals, families, organizations, business large and small, non-profit organizations, religious groups, schools.. Everyone can take pride in the beautiful state of Montana!
What's involved?
You or your group adopt a 2 mile section of highway for 2 years.
The Volunteer Group or Volunteer signs Agreement with the MDT.
The Volunteer Group or Volunteer agrees to pick up trash two (2) times per year.
MDT will loan you safety vests and bags for your cleanup efforts.
MDT will get a sign posted with your name on it at your adopted stretch of highway.
You or your group gets to be proud of your efforts to keep Montana beautiful!
Get Involved!
How to Adopt
Find the route of unadopted road on our Adopt-A-Highway Interactive Map
Contact the Area Coordinator listed with any questions
Complete the application and sign the agreement (see Forms).
Resources
Forms
Safety Guidelines for Group Leaders & Volunteers
FAQs
Litter Information
Area Coordinators
Find your area coordinator:
Melissa Paradis
85 5th Ave. East North
Box 7308
Kalispell, MT 59904-0308
406-751-2006 | Email
Counties covered:
Liz Bell
2100 W. Broadway
Box 7039
Missoula, MT 59807-7039
406-523-5800 | Email
Counties covered:
Missoula
Ravalli
Powell
Sanders
Granite
Mineral
Jan Smollack
Counties covered:
Lewis & Clark (Helena)
3751 Wynne
Box 3068
Butte, MT 59702-3068
406-494-9600 | Email
Counties covered:
Anaconda/Deer Lodge
Jefferson
Silver Bow
Beaverhead
Great Falls Administrative Staff
200 Smelter Avenue NE
PO Box 1359
Great Falls, MT 59403-1359
406-454-5880 | Email
Counties covered:
Cascade
Chouteau
Judith Basin (west of Geyser)
Lewis & Clark
Powell (Helmville area)
Teton
Lisa Rodman
100 Nelson Rd
PO Box 3028
Bozeman, MT 59772-3028
406-556-4700 | Email
Counties covered:
Gallatin
Madison
Broadwater
Meagher
Park
Sheila Young
1649 Highway 2 NW
Havre, MT 59501-3455
406-262-5500 | Email
Counties covered:
Hill
Toole
Blaine
Pondera
Glacier
Liberty
Chouteau (North of Loma)
Teton (North East of Pendroy)
Flathead (From Devil's Creek East)
Skye Sleater
50 Airport Rd
Lewistown, MT 59457
406-538-1300 | Email
Counties covered:
Judith Basin
Fergus
Wheatland
Golden Valley
Petroleum
Musselshell
Diana Walker
424 Morey St
Box 20437
Billings, MT 59104-0437
406-252-4138 | Email
Counties covered:
Sweet Grass
Stillwater
Carbon
Yellowstone
Big Horn
Treasure
Jennifer Gaskins
217 N 4th
Miles City, MT 59301
406-233-3603 | Email
Counties covered:
Garfield
Richland
Rosebud
Powder River
Carter
Custer
Fallon
Wibaux
Dawson
Shelby Tatafu
200 E Highway 25
Wolf Point, MT 59201-9001
406-653-6700 | Email
Counties covered:
Phillips
Valley
McCone
Daniels
Sheridan
Roosevelt
Map of Adopted and Available Highways
Click any line mile segment for additional information about that stretch of road.
Please note the following information when choosing an adoptable area of the map as this will be need to fill out the application. (A window with this information will pop up when you click the road you would like to adopt on the map below):
Signed Route
Beginning MP
Ending MP