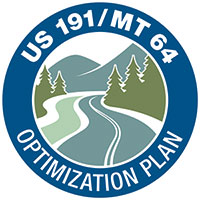 Optimization Plan Overview
The Montana Department of Transportation (MDT) and HDR would like to announce the US 191/MT 64 Optimization Plan. The US Highway 191 (US 191) and Montana Highway 64 (MT 64) corridors are important roadways that connect year-round tourism, industry, and commuters near Big Sky and surrounding communities.
Having MDT, FHWA, and stakeholders at the table provides an opportunity to elevate concerns and priorities. It's the trust, awareness, and understanding built at that table that allows for building consensus even if everyone does not have all their priorities met.
In 2020, MDT completed a corridor study of US 191 from Four Corners to Beaver Creek Road, just south of the intersection with MT 64. This will be a baseline for the US 191 segment of the optimization plan.
The purpose of the optimization plan is to identify local needs and develop improvements that increase mobility and enhance roadway safety through the corridor. The plan also will develop improvements that will support growth and preserve the character of the area while improving current traffic operations. The project team will explore funding opportunities and connect with stakeholders.
Optimization Plan Team
HDR is the engineering firm hired by MDT to provide strategic communication; environmental, traffic, and safety planning; and engineering from our local Montana offices. HDR is partnering with Sanderson Stewart and Big Sky PR to form a team with unmatched MDT experience and expertise directly related to the desired plan outcomes.
UPN 10321000