Bid Letting
AASHTOWare Project Bids™ & Bid Express™ Electronic Bidding
AASHTOWare Project Bids™ Electronic Bidding System is a application designed to work with AASHTOWare Project Preconstruction™, PES® and LAS®, or any similar proposal preparation and bid letting management system. AASHTOWare Project Bids™ effectively streamlines the bidding process, providing transportation agencies with control over the bid letting process while facilitating bid submittal for contractors. In use in over 14 state transportation agencies, it allows bidders to receive proposal item schedules and submit and withdraw item bids in a secure, electronic environment. AASHTOWare Project Bids™ also tracks Disadvantaged Business Enterprise (DBE) commitments and automates calculations, applying amendments and other tasks. Electronic bidding greatly reduces the time and expenses associated with data entry, bid revisions, bid tabulations and finalization.
Bid Express™ Secure Internet Bidding
Many contractors who work with MDT already use AASHTOWare Project Bids™ to produce a bid with an electronic bid file. When your bid is prepared using AASHTOWare Project Bids™, you can use the Bid Express™ Secure Internet Bidding service to submit it over the internet. This convenient service means that you no longer need to travel to submit bids—no more time away from the office, miles of travel, or expensive hotel stays just to deliver bids. Stay home and let the internet safely and securely deliver the bid for you.
Although Bid Express is not mandatory at this time, MDT strongly encourages that you give this service a try.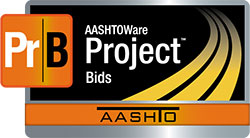 Download Project Bids™ (it's free!)
Effective for projects let December 7, 2017 and beyond.
Terms and Conditions

AASHTOWare Project Bids™ contains underlying program code that incorporates strong encryption technology and is therefore subject to export restrictions. Its distribution may be regulated by 15 CFR Parts 730-774, published by the U.S. Department of Commerce, Bureau of Export Administration, as the Export Administration Regulations (EAR), and other laws and regulations.

Except for export to Canada for use in Canada by Canadian citizens or lawful permanent residents, Project Bids™ and any underlying technology may not be exported outside the United States or to any foreign entity or "foreign person" as defined by U.S. government regulations, including without limitation, anyone who is not a citizen, national, or lawful permanent resident of the United States.

Project Bids™ is available within the U.S. It may not be exported outside the U.S. Be aware that if you export this software outside the U.S., you may be in violation of U.S. laws.

<!—announce -->
Are you a new vendor?
If you are buying out an existing company or are establishing a new business, you must contact the Construction Contracting Bureau to be assigned a Contractor Identification number. If you are establishing a Bid Express account for Internet bidding please let the Construction Contracting Bureau know so they can insure Bid Express has the latest list of valid bidder ids.
Need Help?
The Construction Contracting Bureau can be reached at 406-444-6212 or 406-444-6215.