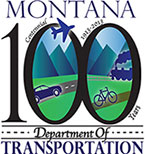 From muddy wagon trails... to interstates
Before the highway commission was formed, Montana's roads were little more than dirt tracks that functioned better for wagons than automobiles. In March 1913 the Montana legislature created the Montana Highway Commission.
Today, the state highway system includes approximately 12,900 miles. MDT manages a multimodal, transportation network that includes roadways, airways, airports, railways, traffic safety, and public transit, along with bicycle and pedestrian accommodations. This inter-connected system "drives" Montana's quality of life and economy that will carry us ahead into the new biennium.