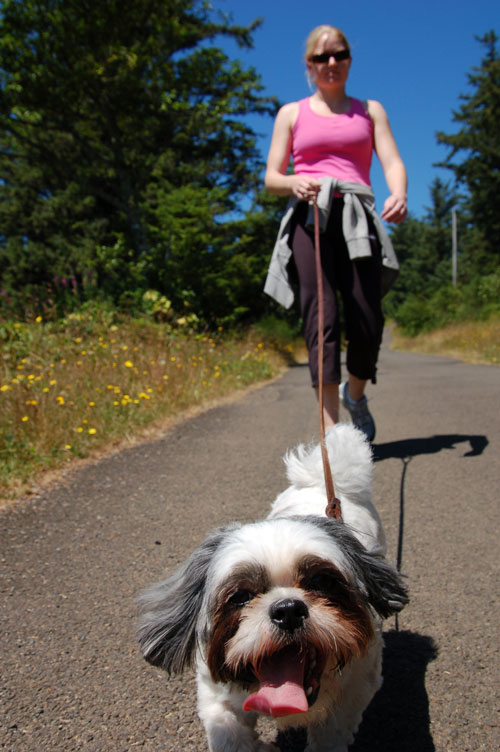 July 26, 2023
Montanans love to get outside, whether it be for a quick hike into the hills or a long-distance bike ride across the state. Incorporating the outdoors into your transportation routine by walking or biking is an easy way to save money, lessen congestion, and get your body moving while you travel to your destination. But as summer temperatures rise across Montana, so do the risks posed by sun and heat exposure. Several tactics for keeping yourself cool and protected from the sun can help mitigate the risk of heat stroke and sunburn while you are traveling by foot, bike, or mobility device.
According to the Centers for Disease Control and Prevention (CDC), high humidity and personal factors such as age, obesity, and alcohol use can all contribute to heat related illness. People aged 65 and over, and those younger than 2, are at a higher risk. Staying hydrated is crucial during hot weather. Make sure you have water with you at all times and do not wait until you're thirsty to drink it. Protect yourself from sunburn by wearing a minimum of 15 SPF sunscreen, reapplying as needed throughout the day. If you are walking, wearing a wide brim hat is another good way to keep yourself protected from UV rays. The CDC recommends light-colored, loosely fitted, lightweight clothing, and to limit time outside at midday, which is when the sun is at its most direct exposure. During extremely hot weather, stay hydrated, limit your time outside and be aware of temperature changes expected throughout the day.
Summer weather is a great time to get outside for your commute or errands. With some preparation, you can enjoy the benefits of walking and biking year-round.
Find more bicycle and pedestrian resources here