Project Overview
Through the 1st Avenue North–Billings project, the Montana Department of Transportation (MDT) will reconstruct approximately 2 miles of 1st Avenue North, from Division Street to N. 9th Street. Reconstruction of this busy city street through the heart of downtown Billings is a significant task involving the coordination of many stakeholders, including downtown organizations, landowners, tenants, and government agencies. Further increasing the complexity are additional design elements intended to create a sense of place, such as revisiting and defining the urban aesthetics, providing public seating, enhanced pedestrian accommodations, attractive lighting, and more.
Improvements planned for this project include:
New curbs and gutters
Stormwater improvements
New ADA Compliant sidewalks
New on-street parking
New street lighting
Replacement of the North 13th Street traffic signal
And more.
1st Avenue North is a complex and involved project. Due to funding constraints, the project has been split into three segments, outlined below, to accommodate phased construction. The entire project is currently in the design phase, and MDT has partnered with the engineering design consultant, Sanderson Stewart, to get the first (East) segment of the project ready for construction, tentatively scheduled for 2027, with the remaining segments to follow.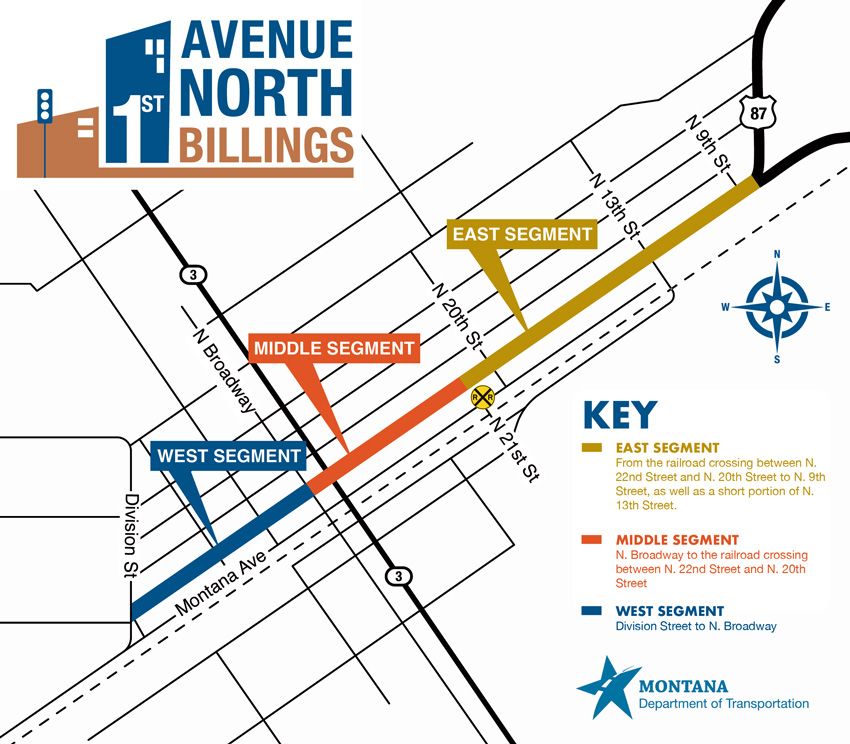 Click the image for a larger view.
UPN 9881000 - West Segment
UPN 9880000 - Middle Segment
UPN 9022000 - East Segment