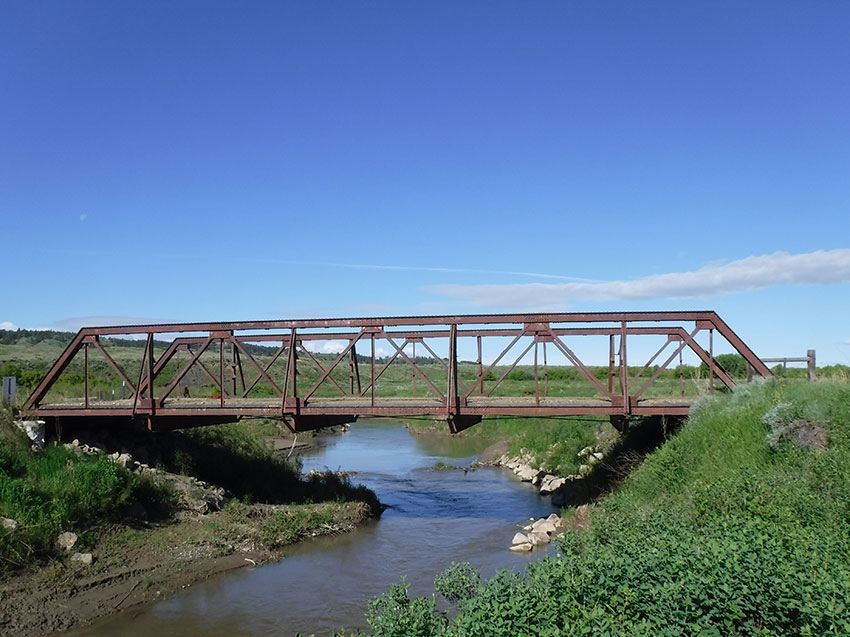 Bridge Location: Petroleum County
Project Overview
The Montana Department of Transportation (MDT) will analyze the condition of our state's "off-system" bridges, which are critical for moving goods and people, and represent one of Montana's most significant challenges.
There are more than 2,000 off-system bridges in Montana, many have served their useful service life and are in disrepair, or load posted, which can greatly impact local and regional economies and our ability to easily move around.
The project, called the Off-System Bridge Study and Implementation Plan, will evaluate the current condition of off-system bridges, and develop a strategic implementation plan and processes for future repairs or replacement options for bridge owners (i.e., county governments). Due to limitations in funding, not all bridges can be addressed. The study and implementation plan will be the basis of a strategic plan for bridge owners to put infrastructure funding to work in the most effective manner possible.
Project Objectives:
Identify potential quick fixes for load bridges and bridges in poor condition. This would allow some bridges to remain in service until they are permanently repaired or replaced.
Determine a list of prioritized bridges and future candidate projects for off-system bridge owners to implement.
Identify funding opportunities for owners to partner with MDT to support bridge repair or replacement projects.
Engage and inform the public, counties, and other stakeholders throughout the process.
Vision Zero
MDT adopted the Vision Zero strategy to eliminate all traffic fatalities and serious injuries, while increasing safety and mobility for all roadway users. MDT is working toward Vision Zero's goals by engineering Montana roadways to ensure Montana's thousands of miles of state roads, highways, and bridges are built and maintained with safety as the first concern.
To eliminate fatalities and serious injuries on Montana roadways, we need everyone to do their part.
Drive attentively
Drive sober
Drive to the conditions of the roadway and do not speed
Watch for pedestrians, bicyclists, and motorcycles
Give construction workers a brake
Eliminate distracted driving, including cell phone use
Wear your seatbelt
Together, we can save lives!
Stay Informed, Stay Involved
In addition to stakeholder meetings, the project team will communicate with you using direct mail, social and traditional media outreach, and a project website, among other tools.
New project information will be posted on this website as it becomes available, but you can request to be added to our mailing list or submit a comment electronically. To send us your U.S. mail or email address or to submit a comment; MDT's Online Comment Form. Please note that your comments are for the Off System Bridge Study, UPN 10115. Thank you!
UPN 10115