Project Overview
MT 86 is treasured by residents and visitors alike, known for transporting travelers through rural farmland and popular recreation areas while connecting the town of Wilsall to Bozeman via Bridger Canyon. Despite the Gallatin Valley's growth, this highway remains a scenic, winding road through the mountains.
As drivers follow the picturesque route, they pass over small creeks via wooden bridges. Many of these bridges were built in 1939 and have received regular maintenance throughout the years. However, wooden structures cannot be expected to continue to bear progressively heavier loads and increasing traffic volumes. Replacements are needed to bring bridges into the modern age and accommodate the needs of rapidly expanding Bozeman and surrounding areas.
The Montana Department of Transportation (MDT), in partnership with engineering firm Morrison-Maierle, is addressing this need through the MT 86 Structures project. Through this work, three bridges over Cache Creek, Carrol Creek, and Flathead Creek will be replaced.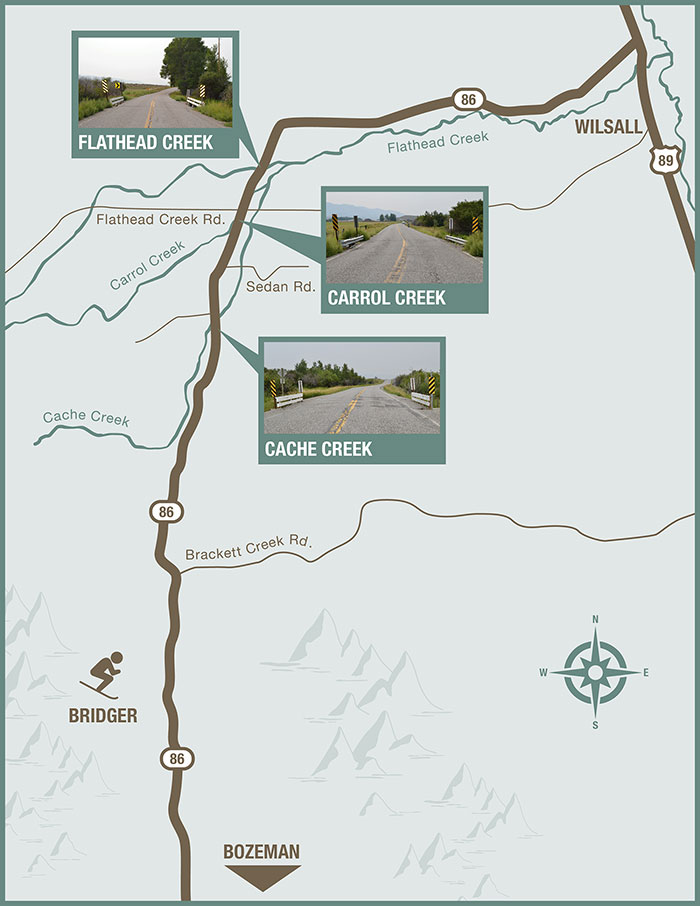 Click to view a larger image.
Timing
It's no secret that the Gallatin Valley's growth is having an impact on roads and highways such as this one. MDT is prioritizing this project by setting a target date for project plans to be completed by 2023.
Beyond that point, funding will determine when this project may be constructed. MT 86 Structures has not yet entered MDT's five-year construction plan, meaning that funding has not yet been identified or secured. However, each year, MDT re-evaluates the construction plan and shifts projects around based on status and available funding. Having project plans ready within the next few years places this project in a good position should funding become available.
What is happening behind the scenes?
Among the engineers' first steps is to research the area and assess the best options for each creek crossing. It is not guaranteed that a bridge will be replaced with a similar bridge. Staff will explore the feasibility of replacing a bridge with a box culvert, a tunnel-like structure, and if moving forward on a bridge, will evaluate certain materials or spans. Careful analysis is needed at each area to ensure the right fix is being applied.
This process is expected to take several months. After this, engineers will begin the process of creating project plans and designing each structure. This too takes time as further research is needed and reviews are conducted.
Public feedback is sought every step of the way and plays a key role throughout the design process. Residents know this highway well and often point out details or provide input that is valuable for engineers to know and consider. To stay up to date on work, provide your thoughts, or ask questions, contact us below:
Email: Sloane Stinson at sloaneXYZbigskypublicrelationsABCcom.
Project hotline: 406-207-4484, answered Monday through Friday from 9 AM to 5 PM.
UPN 9805000