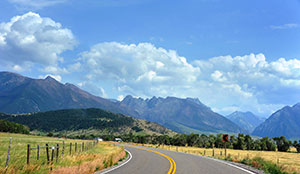 Promoting economic vitality is one mission of the Montana Department of Transportation (MDT). There are several avenues to quantify this mission. First is the primary impact of MDT's activities on Montana's economy, as measured by income, employment and other indicators. Second are the impacts on state revenues, including the General Fund and other taxes and fees. And third is the impact of an efficient transportation system on increasing overall productivity, which enhances returns to households and private and public firms. This research project will quantify all three avenues, with the goal of estimating the economic gains to Montana of improving infrastructure to raise the state's ASCE grade from a C- to a B. These findings may be used by MDT to inform policymakers and other stakeholders about the economic impacts associated with MDT infrastructure improvements. Two different methods will be used to identify and calculate the economic benefits of additional Montana highway infrastructure investments. The first method will utilize the economic models prepared by Regional Economic Models Incorporated (REMI) and Impact Analysis for Planning (IMPLAN). The second method will estimate the total rate of return and the productivity gains of additional roadway investment and maintenance over a 10-year period.
Proposed: Topic Statement
Project Overview
For more information, contact Vaneza Callejas, 802-546-0217.