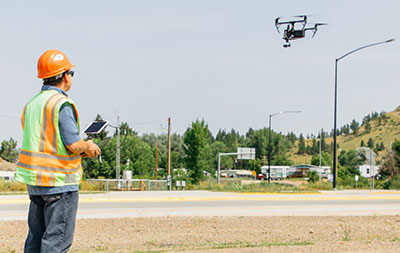 Drone-enabled platforms and sensors have sufficiently advanced that they can now provide useful information on geotechnical issues such as unstable soils in pavement subgrades and within embankment fills. This research would deploy multiple sensors to assess dispersive soils and frozen ground at regional and corridor scales for MDT managed roadways.
This research project is designed to help MDT improve the prediction of adverse subgrade impacts from ground conditions, enabling proactive mitigation efforts to occur before more disruptive rehabilitation and reconstruction projects are required. We are proposing that an appropriate set of drone platforms and sensors be tested and deployed for identifying and mapping potentially unstable subgrade and embankment areas for at least two types of locations in Montana: dispersive soils such as those found near Terry in eastern MT, and frozen ground in northwestern MT. The focus for sensors is hyperspectral, thermal infrared, and multispectral imaging systems, which use multiple, fine-scale bands of reflected natural color and near-infrared light to identify surface features of interest. MDT's recent project for the Terry slide showed promise using a multispectral, tunable drone-based imaging system for identifying likely dispersive soils. Thermal imaging also showed value in helping to assess differences in eastern vs. western facing slopes. Hyperspectral sensors with hundreds of bands from the ultraviolet to near-infrared can now be flown on a practical basis by drones meeting the FAA small UAS definition. Multispectral sensors have become smaller and less expensive, and easier to deploy on smaller, less expensive UAS. These sensors, along with red/green/blue (RGB) high-resolution cameras for creating base maps, would be deployed for this project to map soils of interests at the study sites. In addition, the spectral imaging, conventional photogrammetry methods will be used to generate 3D site models of the surveyed locations that can be used to improve visualization and remote understanding of the sites and eventual change detection through any follow-on photogrammetry or lidar surveys.
This research would include a focused set of field demonstrations across at least two seasons, such as spring and fall, to help identify useful differences in soil surfaces at different times of the year. A future phase could extent this past a one-year initial phase to understand how changes in soil-specific surface indicators that can be tracked via drone-enabled sensing over longer periods of time. Field data of soil properties, such as moisture levels and cone penetrating testing, could be collected to further correlate this information to observations in the remote sensing data. Drone flights at different times of day (morning/mid-day/late afternoon) are recommended to identify impacts on the outcomes of soil remote sensing. High-resolution ground control (such as better than 3-inch positional accuracy) will be important for useful mapping results.
The results from these multi-sensor field demonstrations will be integrated into a set of geospatial output products made available for project team and MDT use. Merged images (orthophotos) and digital elevation models will be produced for RGB imagery products. Merged multispectral, hyperspectral, and thermal imagery will also be produced. Image classification software, such as eCognition, will be used to create geospatial outputs that identify soil areas of interest (dispersive soils, frozen soils, other soil types) with precise location and area information. These results will be compared to existing and newly collected ground truth data to create error matrices that report on overall and soil type-specific accuracy. The results will be described in a final report with a focus on how the methods and results can be implemented by MDT on a practical basis, including recommendations for potential longer-term analysis.
Proposed: Topic Statement
Project Overview
For more information, contact Vaneza Callejas, 802-546-0217.