Evaluating Wildlife Mortality Hotspots, Habitat Connectivity and Potential Accommodation along US 287 and MT 87 in the Madison Valley, Montana
Along United States Highway 287 (US 287) and Montana Highway 87 (MT 87), wildlife-vehicle collisions (WVCs) can create a public safety risk and a habitat connectivity issue, which has generated some public concern.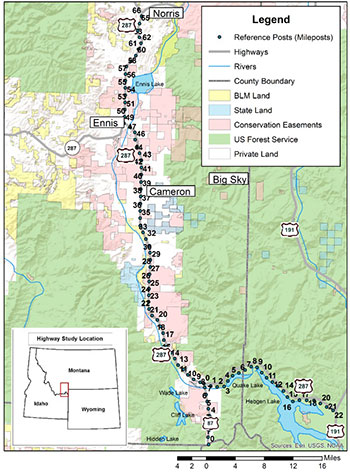 Prior to this project, the patterns and effects of WVCs and wildlife movements across this highway corridor had not been studied. The overall objective of this project was to determine the effect of the major highways in the Madison Valley on wildlife mortality and movement patterns. The Madison Valley is situated in the Greater Yellowstone Ecosystem (GYE) and plays a key role in connecting this ecologically intact ecosystem to other intact areas of the Central Rockies, particularly the wildlands of central Idaho and the Selway-Bitterroot Ecosystem (SBE).