Planning a Bicycle or Pedestrian Event
If you are planning a pedestrian or bicycle event MDT has safety signs that can be lent out for approved events.
"Bikes/Runners on Road" Signs are Available!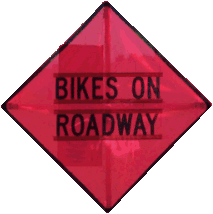 If you are planning a bicycling or running event in your community, large or small, you are undoubtedly considering the safety of the participants. MDT has an excellent resource to help ensure a safe event—bright-orange "Bikes/Runners on Roadway" signs.
The diamond-shaped signs measure 36" x 36" with 4" tall black letters and are portable and lightweight.
MDT has "Bikes on Roadway" signs available at MDT offices across the state including Missoula, Kalispell, Bozeman, Billings, Butte, Great Falls, Miles City, Havre, Lewistown, Wolf Point, Glendive and Helena.
We encourage event coordinators to use these signs and tell us about your event. To reserve these signs we ask that you contact your area representative listed below to fill out a Sign Reservation Form.
This reservation form serves two purposes in that it creates awareness of events and it also helps in gathering and identifying routes used by bicyclists.
This reservation form includes: organization or event represented, the date of the event, how many riders are expected, and a detailed route plan. It also provides verification of a submitted traffic control plan, proof of insurance, and notification of state and local authorities.
Any individual or group organizing an event can reserve and check out the signs from the following MDT employees: