Airport Surplus
Airport surplus is available to Montana airports. Do you have surplus equipment? Please email , 406-444-9592 or call the MDT Aeronautics Office 406-444-2506.
Eureka Airport
Call Pat Jacobs at 406-889-5174 to arrange pickup of these items.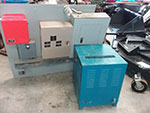 Control system for runway lighting that was in use at Eureka airport.
---
Glendive Airport
Call Leon Baker at 406-687-3372 for these items:
2 runway identification signs.
---
A large number of clear medium intensity runway light lenses
---
4 Runway End Identification Lights (REILS)
---
10, 6.6-amp runway light transformers
Laurel Airport
Email or call him at 406-656-8834 (home) or 406-690-9669 (cell) for these items:
Laurel surplus description
Twin Bridges Airport
Call Randy Witt at 406-596-0425 for these items:
Surplus runway edge lights with transformers (25 clear)
---
12 red/green threshold lights