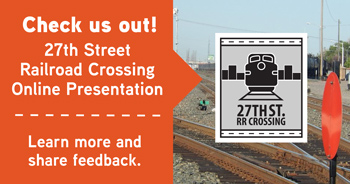 The Montana Department of Transportation (MDT) hosted two virtual "live" informational meetings to gather input and share information about the 27th Street Railroad Crossing project on Dec. 1, 2020. The project team shared the study overview and next steps for the existing 27th Street at grade railroad crossing, located in downtown Billings. The purpose of the study is to identify practicable short-term and long-term improvements that are fundable and meet the needs at this location.
View video of the 11:30 a.m. meeting.
View video of the 4:30 p.m. meeting.
View the PowerPoint presentation.
Community participation is important to the success of this project. Comments and questions may be submitted in writing to 27thStRailroadCrossingXYZhdrincABCcom . Comments may also be submitted using the online comment form. Please select 27th St. RR Crossing-Billings from the drop down menu or call Lisa Gray at 406-208-0551.
For updates in the spring of 2021, please subscribe to texting updates for '27thstreet' at 47177 or email updates at 27thStRailroadCrossingXYZhdrincABCcom. You may also contact the Public Information Officer directly at 406-698-3668.
27th Street RR Crossing – BLGS
STPX 53-1(37)1
UPN 9354000
MDT Contract Number 110264
Project Overview
The scope of this project is to develop a feasibility study to determine short and long-term solutions for the existing at-grade railroad crossing on 27th Street in Billings. A high-level study was recently completed (2016 Montana Rail Grade Separation Study), identifying this location as being a high priority for MDT. A more detailed study is now being conducted to identify specific solutions that are fundable and meet the needs at this location.
The detailed feasibility study will consider, at a minimum; traffic operational and engineering analyses, safety, Railroad coordination, bicycle/pedestrian facilities, ADA needs, environmental issues, geometric considerations, right-of-way, utilities, public engagement, stakeholder input and impacts to adjacent buildings.
UPN 9354000