Billings Bypass

The Montana Department of Transportation (MDT) and the Project Design Team Led by DOWL, invited the public to attend one of two open house meetings. The meetings were held to introduce the project team and to provide the public the opportunity to engage on a one-on-one basis with the team to have questions answered. Updates on the current state of the design, information regarding the expected construction sequence and schedule were provided. The current schedule anticipates construction of the first segment of the project to be underway by the Spring of 2019. Depending on the availability of future funding, MDT intends to construct a segment each year thereafter until the project is complete.
The first open house was conducted on September 27th at the Independent Elementary School cafeteria. Approximately 80 residents and local officials participated in the open house. A second open house was conducted the following evening on September 28 at the Eileen Johnson Middle School Commons at the Lockwood School. An estimated 65 residents and local officials participated in the event.
If you were unable to attend the open houses and have a question about the project or would like more information, please contact the MDT Billings District office, email ( ) or call 406-294-9668.
Project Overview
The Montana Department of Transportation (MDT) in cooperation with the Federal Highway Administration (FHWA) issued a Record of Decision (ROD) for the Billings Bypass project. The ROD names Phase 1 of the Preferred Alternative (Mary Street Option 2) as described in the Final Environmental Impact Statement (FEIS), as the selected alternative. This alternative will provide a 5.15-mile-long two-lane roadway connection across the Yellowstone River between I 90 and Old Hwy 312. Secondary corridor improvements associated with this alternative include reconstruction of Five Mile Road to MDT standards, and construction of a new segment of Five Mile Road extending from Dover Road to Old Hwy 312.
Map of Project Areas
Map of Selected Alternative with Typical Sections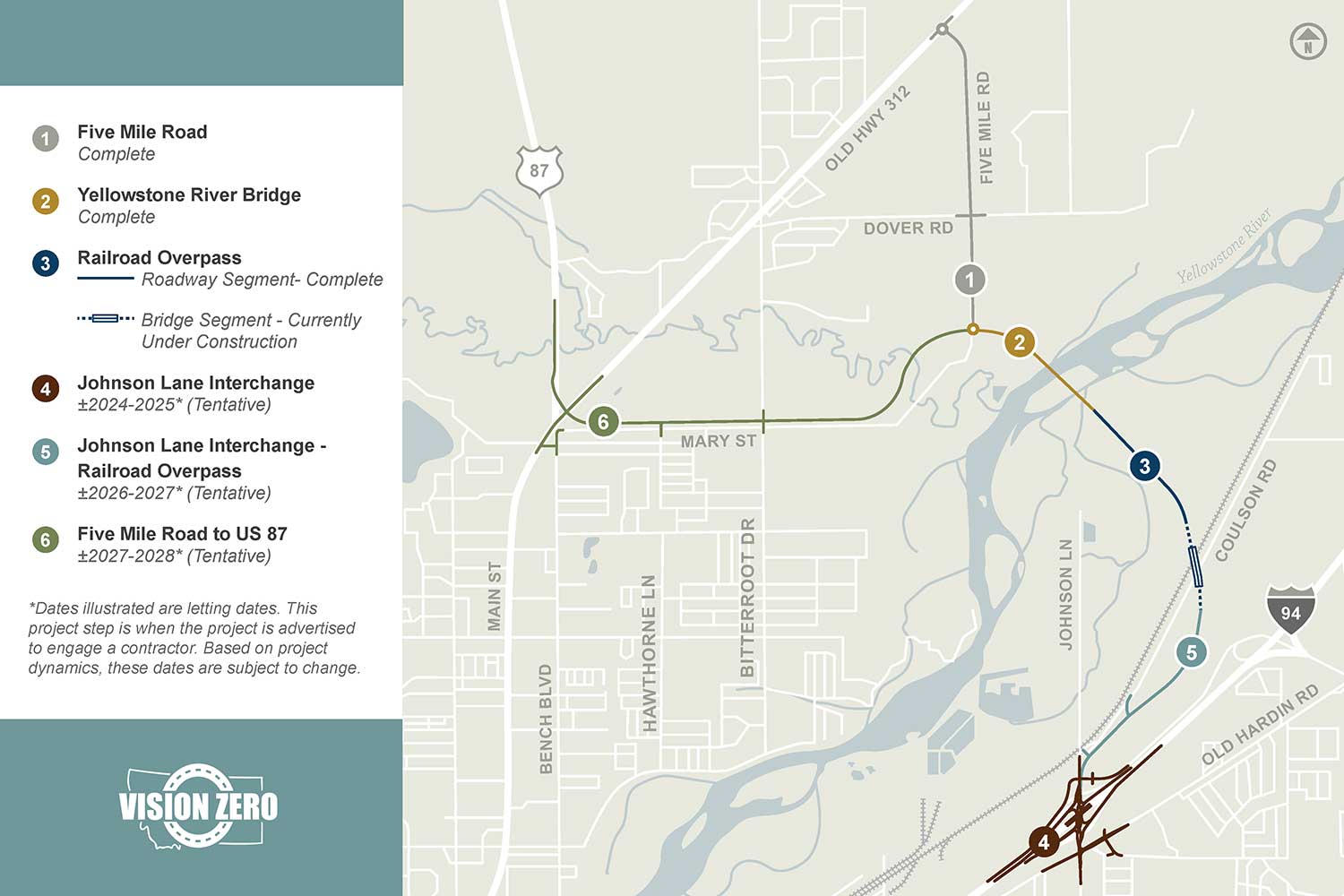 Following the approved FEIS and ROD, MDT selected DOWL to advance design and prepare construction documents with support from Kittelson & Associates, Marvin & Associates, Morrison Maierle and Peaks to Plains Design. Due to the project's size, complexity and construction cost, the Bypass is being segmented into six separate construction projects. The first project, expected to begin construction in 2018, will reconstruct Five Mile Road and extend it to a new intersection with Old Highway 312. Depending on the availability of funding, the remaining segments are expected to follow each year there after.