Billings Bypass


Project Overview
The Billings Bypass project is a multi-phase project that will result in a new arterial roadway. The new road will begin at the Johnson Lane Interchange in Lockwood, Montana, span the Yellowstone River, and connect to the Highway 312/Highway 87 intersection in the Billings Heights. An additional segment has reconstructed Five Mile Road north of the new road and will connect Five Mile Road to Old Highway 312.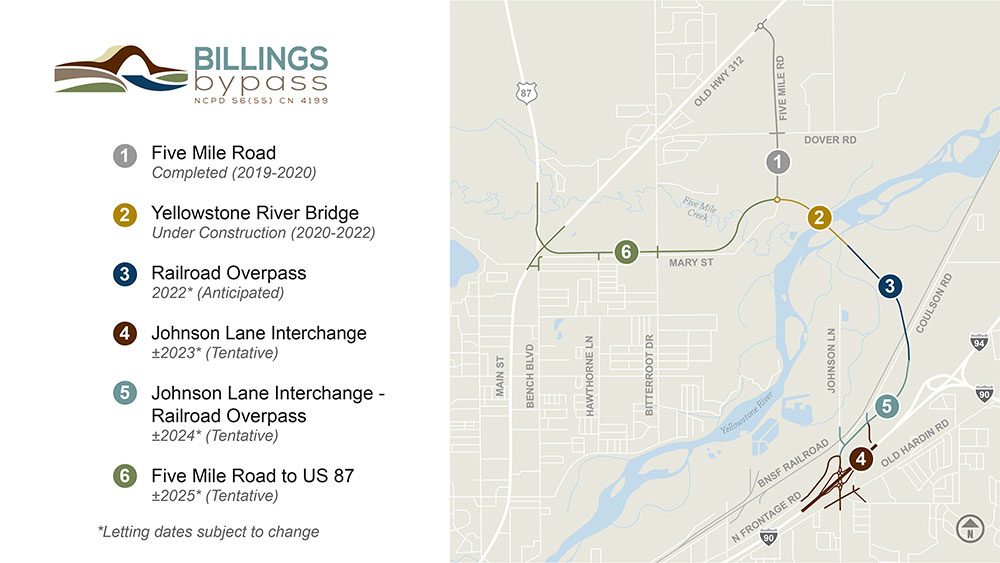 This project is led by the Montana Department of Transportation in cooperation with the Federal Highway Administration (FHWA), Yellowstone County, and City of Billings. DOWL is the lead project engineer and public information coordinator and Morrison-Maierle is the lead bridge engineer. Kittelson and Associates along with Marvin and Associates are performing the traffic engineering and operational analyses.
Current Status: Five Mile Road is complete. The Yellowstone River Bridge is currently under construction. The Johnson Lane Interchange segment design is approximately 60% complete. Granite Construction/LHC will be the construction manager/general contractor for this project segment. Meetings with property owners and stakeholders are ongoing; please reach out to the project team at or 406-294-9668 if you have any questions or comments.
Additional detail about each project segment is available on the Status / Schedule page.