Billings Bypass

Status/Schedule
The flow chart below depicts the project process and tentative dates.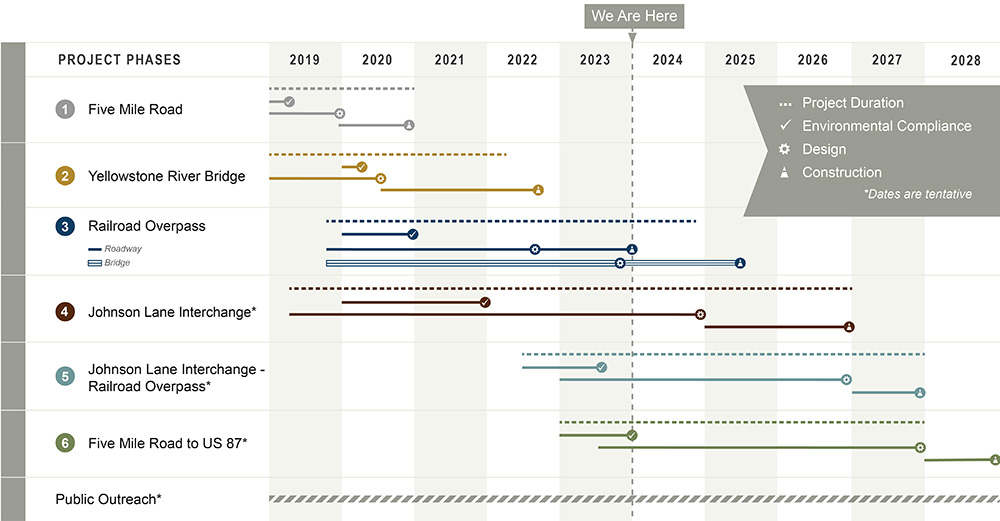 Five Mile Road
This segment of the project is currently being constructed by Riverside Contracting, Inc. Construction will continue through the summer of 2020. Traffic flow along Old Highway 312 will be maintained at all times.
Yellowstone River
Design for this section is progressing on schedule. Features of the bridge include two vehicular travel lanes in each direction and a 10-foot multi-use path on the west side of the bridge. This project is anticipated to begin construction in 2020 and a two-year construction duration is planned.
Johnson Lane Interchange
The Johnson Lane interchange will be Montana's first diverging diamond interchange, an intersection style that offers many safety benefits. Construction Manager/General Contractor (CM/GC) is the project delivery method for this segment, which means that a contractor is engaged during the design phase to provide constructability reviews. In this role they work closely with the owner (MDT) and design engineer (DOWL) to streamline project delivery. As the project transitions to construction, the contractor's role shifts to general contractor. This project is currently anticipated to begin construction in 2022. The team of Granite Construction and LHC have been selected as the contractor for this segment.
Railroad Overpass, Johnson Lane Interchange – Railroad Overpass, and Five Mile Rd to US 87
Design for these sections is proceeding on schedule. Tentative letting dates for each section are illustrated on the map.