Bonner Bridges Project Overview
Bonner Bridges Project
The Bonner Bridges project will pause for the winter season, starting in November 2018. Traffic will return to a normal configuration and construction will resume in spring 2019.
Pedestrian facilities running under the Bonner Bridges are closed and the construction deck is not open to the public. There will be no river closures related to this project until spring 2019. Call the MDT hotline at 406-207-4484 with any questions throughout the winter months.

<!—announce -->
Project Overview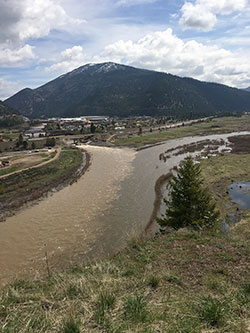 The Montana Department of Transportation has started reconstruction of the Interstate 90 bridges spanning the Blackfoot River at Bonner.
The two-year, $15 million project calls for replacing the 53-year-old bridges with upgraded structures. Most notably, plans call for the permanent removal of existing piers in the Blackfoot River — which will improve safety and access for recreational users as well as improve habitat for endangered bull trout and other fish species.
The Montana Department of Transportation does not anticipate a significant impact to I-90 traffic during construction, scheduled from April through November 2018 and 2019. The bridges will be built in two phases. The eastbound bridge will be replaced in 2018. During construction two-way traffic will be routed on the existing westbound bridge. The westbound bridge will be replaced in 2019, with two-way traffic routed on the new eastbound bridge during that time. During the winter travel season both bridges will be open to traffic.
Blackfoot River access will be restricted in May and again in late summer to protect floaters and other recreational users from construction-related hazards. Periodic river closures will take place during the remainder of construction season.
To accelerate completion of the I-90 bridges, MDT entered into a design-build contract with Helena-based engineering firm Morrison Maierle and Missoula-based construction firm Frontier West LLC.
Stay in the Know
For email updates about the project, email Sarah at .
Hotline: Call 406-207-4484 during business hours.
Text Alerts: Text BONNER to 41411 for current river closure information during active construction*.