Choteau - North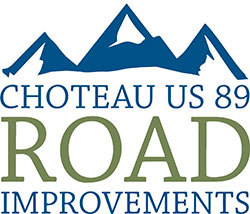 Choteau - North
Project Overview
The Choteau North Project will widen and realign U.S. Highway 89 in Teton County as part of ongoing efforts to improve safety on the roadway. Design is currently underway, and construction is anticipated for 2023.
Specific roadway improvements include:
Widening U.S. 89 from 24-feet wide to 32-feet wide – one 12-foot-wide lane in each direction with 4-foot wide shoulders.

Improving the roadway by flattening the steep slopes (shoulders) on the side of the road, straightening curves, and reducing the vertical dips.

Resetting two historical markers:

Old Agency on the Teton.
Blackfeet and Buffalo.

Updating signage and pavement markings.
Placing shoulder rumble strips adjacent to the lane edge and incorporating centerline rumble strips into this project for safety.
Improving drainage.
The posted speed limit will remain 50 mph for the first 700 feet of the project for vehicles entering/exiting the Choteau city limits, and then changes to 70 mph for daytime travel and 65 mph for nighttime travel through the rest of the project length after construction. View the Project Fact Sheet.
Purpose & Benefits
The U.S. 89 corridor has been scheduled for reconstruction to better accommodate the array of uses (recreation and passenger vehicles, trucks, and bicycles). The following key factors will be addressed:
Outdated design standards.
Limited passing opportunities.
Narrow shoulders.
Sharp roadway curves.
Poor traffic flow.
Moderate-to-high potential for crashes.
The project intent is to enhance safety and efficiency of the route and showcase the scenic features and recreational attractiveness of the roadside.
Background
A federally required Environmental Impact Statement (EIS) was completed in 2003. The EIS reviewed social, economic and environmental impacts of various designs for the corridor and included opportunities throughout for stakeholders and the public to participate and comment. The final EIS (Fairfield to Dupuyer Corridor study) can be viewed here.
Project Status
The project is currently in the design phase. The project team is working on drainage and irrigation design, wetland and other environmental impacts, contaminated soils, historic resources, soils studies and related permitting needs.
Next steps include addressing right-of-way needs in the latter part of 2020 and letting the construction contract in fall of 2022. Construction is anticipated for 2023. All dates are of course subject to change pending unforeseen developments.
How You Can Participate
The Department welcomes your comments on this project.
Please feel free to submit comments:
Online: Fill out the Comment Form.
Indicate Comments are for project UPN 8965000