Goffena Bridge
Project Overview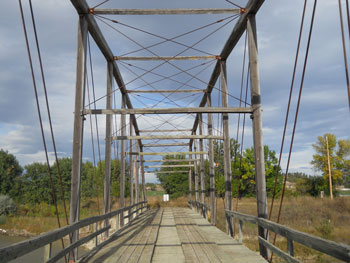 The Montana Department of Transportation will be replacing the existing out-of-service Goffena Bridge, a timber truss structure over the Musselshell River. As bridge design progresses, public input is encouraged and appreciated.
Construction of a new bridge is planned for 2023 and will be located on or very near the existing location. We are currently in the planning and design phase of the project; the following map/illustration notes some of the key project considerations.
Because of COVID-19 safety protocols, the project team will be meeting with property owners, community leaders, and interested members of the public individually at pre-scheduled times; both in-person or virtual options are available. Please call to schedule a time to chat; we're very interested in hearing about your needs, concerns, and general thoughts regarding this important piece of community infrastructure.
Public Meetings
Roundup Central Commons; 610 2nd ST W, Roundup, MT 59072
October 22, 2020
In-person meeting available between 1 pm and 7 pm.
Virtual meeting options are also available.
Please call 406-869-6329 to schedule an appointment.
For more information regarding project specifics, please contact us at the contact information provided.