Study Focus
In response to crash patterns identified on Montana Highway 84, the Montana Department of Transportation (MDT) is examining safety improvements for the Madison River corridor.
Montana Highway 84 is one of the primary ways that residents and tourists in the Gallatin Valley access the Madison River, one of the most well-known rivers in Montana. It also is an important thoroughfare for some of Montana's smaller communities, such as Norris and Ennis, to travel to the airport or commute to other business in nearby Bozeman. This two-lane highway, with its hilly terrain and curves following the river has proved to have more crashes on it than the statewide average for similar highways.
To bring Vision Zero to a reality along this corridor, MDT is conducting the Highway 84 - East of Norris Corridor Study and is exploring all feasible solutions.
With thousands of miles of roads to manage, MDT engages transportation experts who are experienced in conducting these studies to explore all options and identify the most cost-effective solutions. For this project, MDT has hired a consultant that will explore and identify the best solutions for Montana Highway 84.
Project Map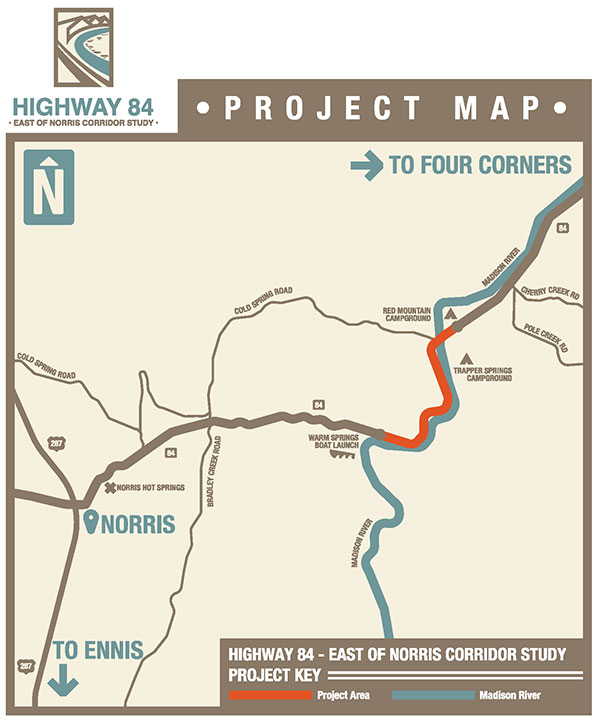 Why are we doing a corridor study?
Corridor studies are conducted in the early phases of the planning process, prior to building out an anticipated road design and beginning construction. Once a roadway with a traffic problem is identified, a study is conducted to catalogue possible solutions to the problem. On large highway projects, such Montana Highway 84, this process is especially critical. We not only need to consider how to solve the current need; we have to consider roadway function years into the future.
Without thorough study, the solution for Montana Highway 84 might only address a part of the roadway, not solving a larger problem. If the larger problem isn't solved, more construction and maintenance could be needed sooner. To maximize cost-effectiveness, a careful and strategic approach to updates on this corridor is needed.
A long-term, sustainable solution has not yet been identified for Montana Highway 84. In carefully assessing the problem and seeking the best option, MDT is reaching out to those who live, work, and play in this area.
Are you a regular user of the Madison River? Do you make the drive on Highway 84 as part of your daily commute? MDT wants to hear your opinions on a safer roadway.
Your feedback is essential. Public input helps shape every project at MDT. We strongly encourage the public to get involved so that together, we move forward with the best solution for the drivers of this corridor.
In addition to sharing your thoughts with us, it is our goal to ensure you know how this project is advancing. Questions or comments can be sent to MDT via:
Email: Contact Takami via email to subscribe for updates, ask questions, or submit a comment
Project hotline: 406-207-4484 during business hours