Jackrabbit - Madison to Main
Note: The title of this project has been updated from "Belgrade Urban" to "Jackrabbit - Madison to Main."
Project Overview
Belgrade residents have seen their community grow in many ways within the past few years. Coupled with development throughout the Gallatin Valley, there are several outstanding infrastructure needs that must be met. To provide long-term solutions to meet these needs, the Montana Department of Transportation (MDT) is planning to widen a half-mile stretch of the highly-trafficked Jackrabbit Lane as part of the larger Jackrabbit - Madison to Main project.
Currently, this area has outdated signals, limited capacity roadways, and no sidewalks. This baseline is not appropriately serving the community's needs. It has not kept pace with growth and certainly will not accommodate projected development. With the Belgrade community's support, the Jackrabbit - Madison to Main project will begin construction in 2023 to provide for a better commute and safer facilities.
The Jackrabbit - Madison to Main project will extend from the intersections of Madison Avenue and Main Street. Along this corridor, the existing three-lane road will be transformed into a five-lane facility with two lanes of travel in each direction, in addition to a center turn lane. The existing railroad crossing south of Main Street will be upgraded to accommodate the additional traffic lanes. In conjunction with roadway widening, new curbs and gutters will be installed, and sidewalks will be added, bringing this stretch of roadway into compliance with the Americans with Disabilities Act (ADA).
In addition, traffic signals will be upgraded at the following six intersections in Belgrade:
Amsterdam Road and Thorpe Road
Amsterdam Road and Interstate 90 eastbound off-ramp
Amsterdam Road and Jackrabbit Lane
Jackrabbit Lane and Interstate 90 westbound off-ramp
Jackrabbit Lane and Madison Avenue
Jackrabbit Lane and Main Street
Map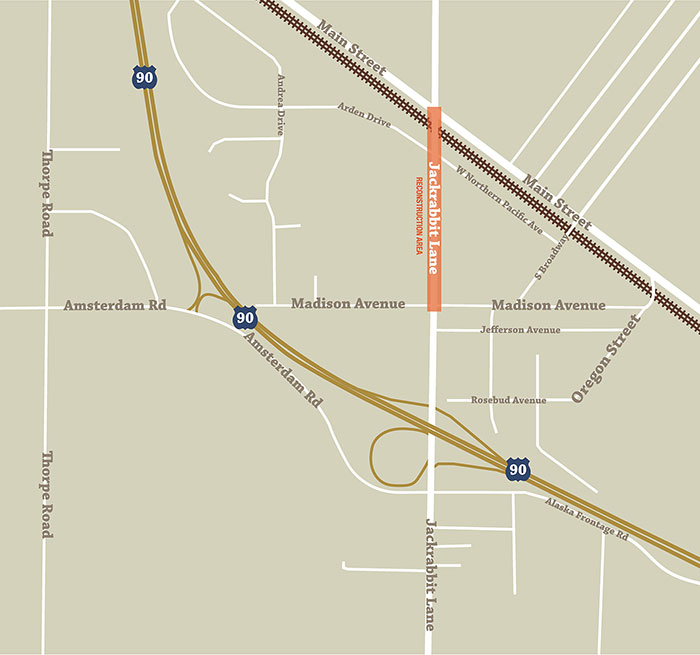 Utility Work
New right-of-way acquisition and the relocation of utilities will be required. MDT is dedicated to working with all potentially affected landowners prior to performing survey work on their land and certainly prior to construction regarding any potential changes to their property. Depending upon the location, this could include property acquisition and/or temporary construction permits. These are community projects that can only successfully accomplished if the project is representative of our community's values. Having early conversations prior to construction is the best way we can accomplish this goal.
Timing
With the recent completion of the Belgrade South project in 2018 – where Jackrabbit Lane saw the addition of two signalized intersections, increased vehicle travel lanes, extension of the shared-use path and better drainage – many in the community have asked why construction cannot start sooner. We are listening and we do care.
First, by launching this project in a few years, MDT is provided more opportunities to collect public comment. We want to hear from you to make this project ours.
Second, the Jackrabbit - Madison to Main project will receive federal funding. Current projections estimate that the project will cost $4 million; the vast majority of which will be allocated from federal funding mechanisms. This means that Montana taxpayers and drivers can use state transportation funds for other projects.
Process
It's also important to note that MDT projects go through a rigorous review process. These processes are very important to ensure that work will provide the long-term benefits needed. Improvements on a busy roadway like Jackrabbit Lane take time. We all know of a road in our community that could use work. But with 25,000 miles of roadway across Montana to consider, how does MDT turn big projects like Jackrabbit - Madison to Main into a reality?
As the project moves through these important phases, MDT encourages residents to reach out with thoughts on the project to help guide thinking around project elements such as detour routes, impacts to the traveling public, safety concerns and the needs of commercial and agricultural vehicles.
Staying in the Know
We recognize the impacts of construction on businesses, residents, and travelers and are committed to mitigating those challenges by delivering practical and timely information. Construction plans are not yet set. However, once construction starts, it will be in phases to limit disruptions. The following resources will provide important updates as planning moves forward.
For regular project updates:
Email updates: Contact Katie to subscribe.
SMS texting updates: Text BELGRADE to 41411.
Project hotline: 406-207-4484 during business hours.