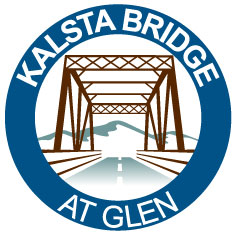 Project Overview
The Kalsta Bridge that carries traffic across the Big Hole River, located three miles north of Glen on Montana Highway 91 (MT 91), has deteriorated and the Montana Department of Transportation (MDT) must replace it. This project will enhance safety features and improve traffic flow. Since 2019, the bridge has been restricted to single-lane traffic, with a 3-ton weight limit and 15 mph speed limit to prevent further damage. Bridge construction is tentatively scheduled for 2026 based on completion of design, right-of-way, and funding availability.
The Kalsta Bridge replacement is currently in the design and right-of-way phases. Certain aspects of the project could change as MDT completes these phases. The design process includes environmental and engineering studies and considers how the project can be constructed in the most cost-effective manner to meet the needs of the traveling public.
As the project develops, the bridge will continue to be open to traffic with the current restrictions in place. Recreational use on the river below will not be affected. Once the project moves into the bridge removal and replacement phase, the project team will make every effort to minimize the impacts to roadway and river users.
The public and all stakeholders will be kept informed throughout the project. A public meeting will be scheduled later in the design phase. Community members and other stakeholders will be notified via this website, email and mailers. MDT welcomes public feedback. Comments can be submitted by calling 406-998-7258, emailing pamXYZaverymasseyABCcom, or via the MDT Comment Form. Please note comments are for the Kalsta Bridge at Glen project.
Click to view a larger image.