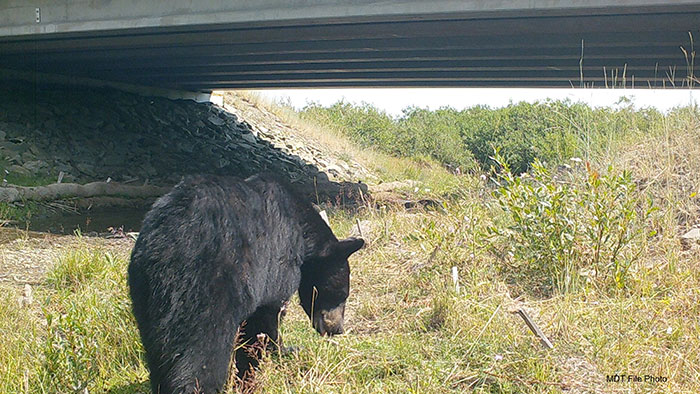 Bear crossing under a bridge. Photo credit: MDT
The MTWP Steering Committee formed a Data and Information Work Group (DI Group) to support the development of collective priorities and seek ways to address challenges with data collection, management, use, and information sharing. The DI Group consists of appointed representatives from MDT, FWP, and MSWP with expertise in relevant data production and management, research and analysis, and geographic information systems (GIS). The DI Group developed the Montana Wildlife & Transportation Partnership Planning Tool (MWTP PT or Planning Tool).
Planning Tool Description
The Planning Tool was developed by the Data and Information Work Group (DI Group), a team of biologists, road ecologists, engineers, and GIS specialists from the Partnership member entities. This broad-scale assessment is not intended to identify specific wildlife accommodation project locations or scopes. The Planning Tool provides coarse-scale information to assist stakeholders and the public in working collaboratively to identify potential conservation efforts on and adjacent to transportation corridors across Montana.
Planning Tool Summary Report
The Summary Report provides detailed information on the methodologies used to develop data, formulate the Needs Assessment Criteria (NAC), and build the mapping of the Planning Tool. Additionally, the report explores the data layers used as inputs for each NAC, and outlines identified data needs, gaps, and limitations to inform current research needs and potential improvements for future iterations of the MWTPT.
Planning Tool Help Guide
The Help Guide is intended to assist users in navigating, exploring, and extracting information from the Planning Tool. The Help Guide provides technical assistance and guidance for using and exploring each aspect of the Planning Tool.
Explore the Planning Tool
The Planning Tool is a broad-scale web-based statewide mapping resource for evaluating the highway segments of interest for planning conservation efforts and wildlife accommodation projects based on wildlife-vehicle conflicts and important areas for wildlife movement and conservation within Montana.