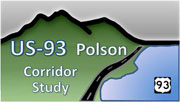 Study Focus
The Montana Department of Transportation (MDT), in cooperation with Confederated Salish & Kootenai Tribes, Lake County, and the City of Polson, conducted a corridor study of US 93 from approximately reference post (RP) 56.5 (US 93/Caffrey Road) and extending approximately 6.5 miles north to approximately RP 63.0, or 0.8 miles beyond the Rocky Point Road intersection. The US 93 Polson Corridor Study was completed August 2011.
Final Study Documents
Complete document (10.3 mb)
Study by Section
Cover
Table of Contents
Executive Summary
Introduction
Existing Conditions of US 93
Consultation, Coordination, and Community Involvement
Corridor Needs and Objectives
Alignment Identification
Alignment Selection
Funding Mechanisms
Corridor Study Conclusion
Appendices
A: Consultation, Coordination, and Community Involvement
B: Environmental Scan Report
C: Corridor Study Documentation
US 93 is a major north/south highway providing a vital link between Missoula and Kalispell, Montana and surrounding communities. The purpose of the study was to determine financially feasible improvement options to address safety, environmental, and geometric concerns of the transportation corridor based on needs presented by the community, study partners, and resources agencies.
This Study considered the feasibility of a truck route, including those potential truck routes brought forward in the 1996 US 93-Evaro to Polson Environmental Impact Statement. General corridors for analysis will be identified based on input from local government, the community, and other agencies. The consultant followed the Montana Business Process to Link Planning Studies and NEPA/MEPA Reviews, which requires extensive community outreach and coordination with other partnering agencies. Issues that were addressed within the corridor study included but were not limited to:
Transportation needs/issues
Safety
Public sentiment
Aquatic resources
Floodplains
Water quality
Threatened and endangered species
Scenic sections along Flathead Lake