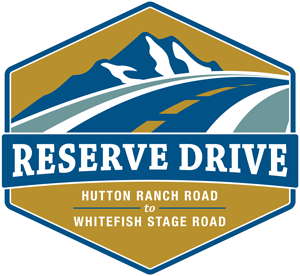 Project Overview
The City of Kalispell, in partnership with the Montana Department of Transportation (MDT), kick off the highly anticipated Reserve Drive: Hutton Ranch Road to Whitefish Stage Road project. In 2023, MDT and the City of Kalispell will select a project team and begin design of the recommended improvement option selected through the West Reserve Drive Corridor Planning Study. Construction will occur in 2024 or 2025. A map of this specific project area is included below.
The 2020-2021 US Census named Kalispell the fastest growing micropolitan area in the country. Traffic volumes have increased dramatically, causing significant delays on Reserve Drive and Whitefish Stage Road. In 2022, this project was awarded the US Department of Transportation Multimodal Project Discretionary Grant (MPDG) to address transportation and traffic challenges.
Project improvements will include widening Reserve Drive from Hutton Ranch Road to Whitefish Stage Road from three to five lanes, including a center turn lane, replacing the Stillwater River bridge deck to include sidewalks, and adding a shared-use path and a pedestrian sidewalk. In addition, intersection improvements to Hutton Ranch Road and Whitefish Stage Road will include dedicated turn lanes, signals and concrete surfacing.
Updates will be sent out via the project webpage, mail, news releases, and public meetings held to ensure the Flathead community is kept informed on this project and other Reserve Drive and Whitefish Stage Road projects that are taking place within the next few years.
Questions? To receive email updates on the project, please contact Becca at beccaXYZbigskypublicrelationsABCcom or call our project hotline at 406-207-4484.
Interested in signing up to receive text updates? To sign up for text updates, text RESERVEDRWHITEF to 41411. Message and data rates may apply. Message frequency may vary. Text STOP to cancel. Texting alerts are not managed by MDT and may have different privacy and security policies. For more information, see this site.
Please contact beccaXYZbigskypublicrelationsABCcom for questions, requests for media interviews, or to sign up to receive email updates about this project.
UPN 1021200