Ronan - Urban
Overview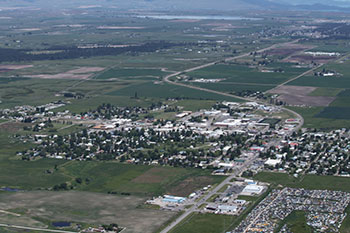 The project is located on National Highway Route 5/US Highway 93 on the Flathead Indian Reservation in Lake County and runs through the City of Ronan. The project begins south of Ronan at the intersection of US 93 and Brooke Lane (RP 44.6) and extends north approximately 4 miles through Ronan to Spring Creek Road (RP 48.3).
The proposed project has been nominated to reconstruct approximately 4 miles of US 93, NH-5 to improve the geometrics, increase the level of service, and provide safety improvements. The project will be designed in accordance with the preferred alternative Urban #4 identified in the SEIS/ROD for US Highway 93 Ninepipe/Ronan Improvement Project and the Memorandum of Agreement (MOA) for US 93 Evaro to Polson.
The project has been split into two segments for design and construction, Ronan-North and US 93-Ronan(Urban).
Ronan-North begins north of the intersection of US 93 and Round Butte Road (RP 47.2) and extends north to connect to the existing 4 lane section north of Spring Creek Road/Baptiste Drive intersection (RP 48.3).
US 93-Ronan(Urban) begins at the intersection of US 93 and Brooke Lane (RP 44.6) and extends north to the intersection of Round Butte Road (RP 47.2)
Past Public Information Meetings
December 6, 2016
September 29, 2014 – City Council Meeting
March 4, 2013