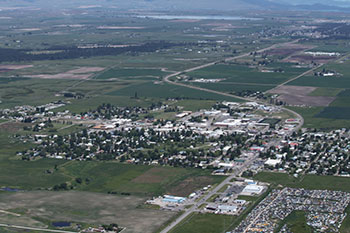 Project Overview
Through the Ronan – North, and Ronan - Urban projects, the Montana Department of Transportation will reconstruct approximately four miles of US Highway 93 through Ronan, Montana. US Highway 93 is a busy route used by residents, visitors, and commercial vehicles to travel from Interstate 90 and Missoula to Lake and Flathead Counties' communities.
In Ronan, the traffic is often congested due to the highway traveling through Ronan's busy downtown area. The problem worsens in the summer when tourists and recreationists head north to the lakes and Glacier National Park. Traffic is expected to increase significantly in the years to come.
Ronan - North
The Ronan - North section of the project is the first to go into construction, spanning from the US Highway 93 and Round Butte Road intersection north for just more than 1.5 miles.
Improvements include:
Widening the highway to four lanes, two lanes in each direction.
Installation of a new traffic signal at the Old US 93 and 3rd Avenue intersection.
Construction of a short, 600ft two-lane segment on 1st Avenue, starting at Round Butte Rd. in preparation for the construction of the Ronan - Urban project, when 1st Avenue will become the US 93 southbound lanes through Ronan.
Permanent closure of Spring Creek Rd. at US 93.
Construction of a new shared-use path connecting Round Butte Rd. with the existing shared-use path along US 93.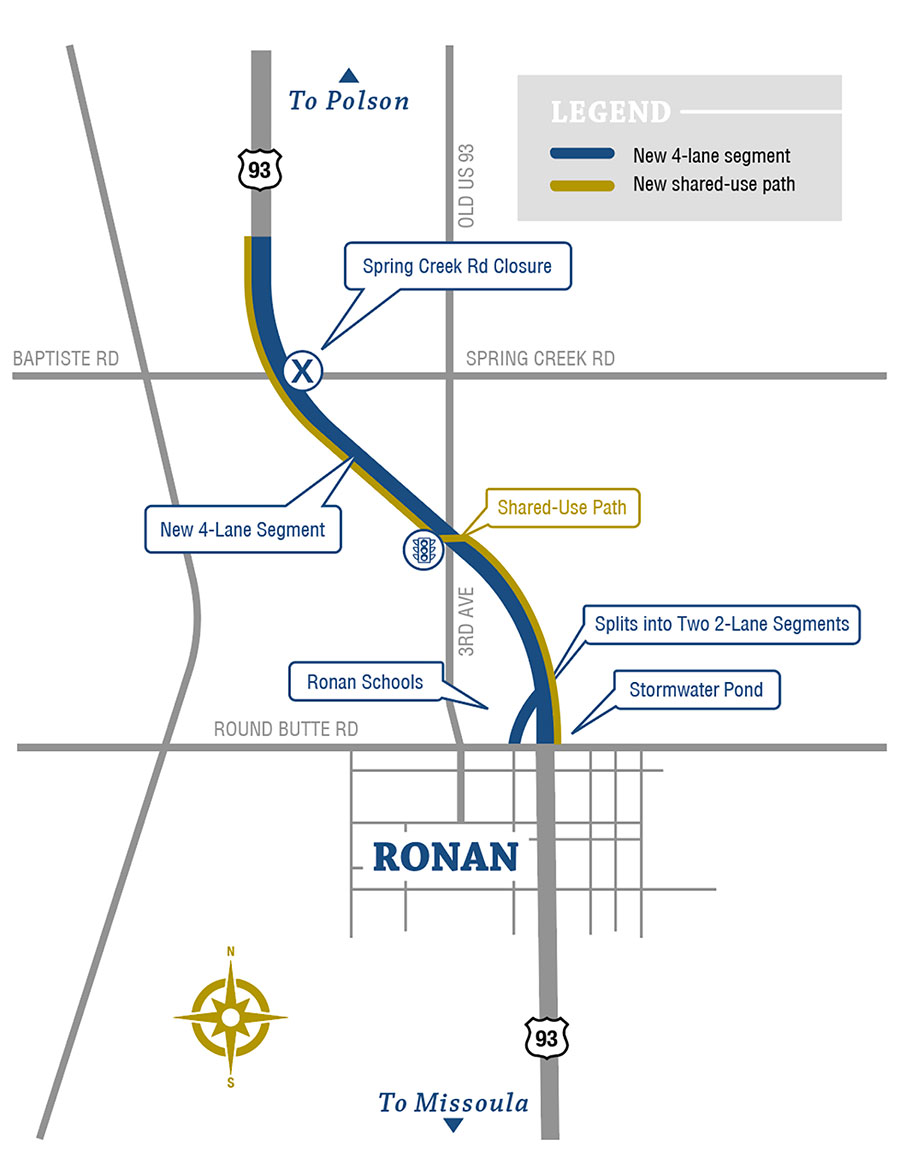 Project area map.
Round Butte Road Path – Ronan
In conjunction with Ronan - North, construction will also begin on the Round Butte Road Path - Ronan project. This project includes building two new sections of sidewalk on the north side of Round Butte Road:
Section 1: On the east side of Ronan Middle School, approximately 195 linear feet of 5-foot-wide sidewalk will be built, connecting the existing sidewalk to the new multi-use path included in the Ronan-North project.

Section 2: Approximately 3,200 linear feet of 6-foot-wide sidewalk will be constructed from 3rd Avenue NW to the existing multi-use path that ends west of the railroad tracks on Round Butte Road.
Ronan-Urban
The Ronan - Urban project begins at Brooke Lane in the rural area to the south of Ronan, where the highway will be widened to 3 or 4 lanes with a center turn lane. Within the Ronan town limit, US 93 will become a one-way couplet with northbound travel continuing on the existing US 93 and southbound travel moving to a reconstructed 1st Avenue SW. Traffic signals will be installed at Eisenhower Street, Buchanan Street, and Round Butte Road. Sidewalk connections will be maintained through town and connect to pathways to the south and north of the project.
Ronan – Urban is currently in the design phase, and a construction date has not yet been determined. Much more work needs to be done on this segment which requires extensive right-of-way acquisition and utility relocation along US 93 and on 1st Avenue SW in the town of Ronan.
UPN 9460000