Russell Street – Broadway to Dakota
The Russell Street – Broadway to Dakota project is nearly complete! The only construction-related activities for the foreseeable future will be landscaping. Some work will take place later this summer underneath the structure and no disruptions to traffic are planned.
The Montana Department of Transportation will be hosting a ribbon-cutting celebration Wednesday, July 8 at 11 a.m. If you're interested in attending, please call 406-207-4484 to RSVP or to ask any questions.
Please feel free to let us know if you have questions by calling our project hotline at 406-207-4484 or by contacting Katie .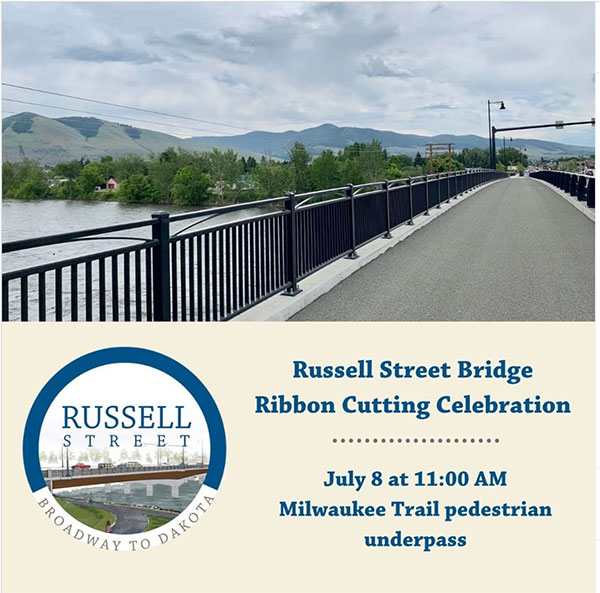 Construction Overview
The Montana Department of Transportation (MDT), in partnership with the City of Missoula, is rolling out the new Russell Street Bridge. The project, which starts at Dakota Street and extends to Broadway Street, will deliver significant upgrades including additional vehicle and bike lanes, expanded sidewalks, lighting, and trail connections.
Improvements to this corridor are years in the making and are critical to meet current and future transportation demands. This two-year, $29 million construction project will provide a completely new bridge over the Clark Fork River. In addition to bike and pedestrian facilities, the project will incorporate utility upgrades, enhanced traffic control, and landscaping. To provide a safer roadway and better access for all types of travelers, the project has been designed with careful consideration given to the area's high traffic volumes, crash history, and increasing bicycle and pedestrian usage.
Work on Russell Street – Broadway to Dakota is scheduled to begin in mid-April.
While construction is underway, travelers should anticipate increased traffic and delays. Impacted commuters and adjacent residents and businesses are encouraged to attend the open house to learn how crews and the community can work together to minimize these challenges.
Stay in the Know
For more information about Russell Street – Broadway to Dakota, connect with us in these places:
Email updates: Contact Katie to subscribe.
SMS texting updates: Text Russell to 41411.
Project Hotline: 406-207-4484 during business hours.
Listen for radio updates on these local channels:

Mountain Broadcasting (KMSO) 102.5 FM
The Blaze (KBAZ) 96.3 FM
The Trail (KDTR) 103.3 FM
Montana Public Radio 89.1 FM