Toston Structures Project

Project Overview
Current Project Status
Construction began on the Toston Structures project in April 2019. It continued throughout 2019 and is ongoing. Traffic is currently detoured to a gravel (roto-milled) surface. Bridge work is continuing with crews beginning to place concrete for the MRL Bridge deck on Tuesday, 5/26/2020. Flaggers, signal lights and signage with reduced speed instructions are visible throughout the construction zone and are being utilized at all construction vehicle/truck entrance points. Travelers should expect consistent but minimal traffic delays (less than 15 minutes).
There are also substantial areas of the river restricted from use/passage. A passable waterway channel is provided, however, and is visibly marked for the duration of the project. There is also a project camera this is active and can be accessed here.
Construction will stop over the Memorial Day weekend starting at noon on Friday, 5/22/2020 and resuming Tuesday morning, 5/26/2020. For traveler safety, please continue to observe posted construction zone speed limits even when construction crews aren't present, however, there should be no additional delays over the holiday weekend.
For weekly construction location and traffic information, please subscribe to texting updates for 'tostonstructures' to 555888 or contact Becky for email updates.. You may also contact the Public Information Officer directly at 406-698-3668.
Construction on the Toston Structures Project began in April of 2019. The project is in Broadwater County, south of Townsend on US 287 near Toston. Construction begins one mile north of the existing bridges and ends just past Radersburg Road (Secondary 285) on the south end. This route is important for residents, agriculture, freight, and recreation. It is also popular for tourists traveling between Yellowstone and Glacier National Parks.
The Toston project improves safety and addresses current and future traffic needs. The existing roadway and bridges are over 70 years old and no longer meet transportation design, environment, or safety standards. In a recent 5-year study, this stretch of road has had higher crash frequency and more severe crashes than similar roads.
The project includes construction of 3.5 miles of new roadway, some of which will be moved over to connect to the new bridges over the Missouri River and BNSF railroad tracks. The two new bridges will be wider than the existing ones and will also include more room on the shoulder for walkers and bicyclists.
Construction also includes a new culvert at Six Mile Creek, a tunnel for pedestrians under the new bridge structure, a school bus turnout (off Radersburg Road), installation of wildlife fencing, and intersection improvements. After the new roadway and bridges are completed, the old roadway and bridges will be removed. Construction is expected to take two seasons (2019 and 2020) and to be completed in the spring of 2021.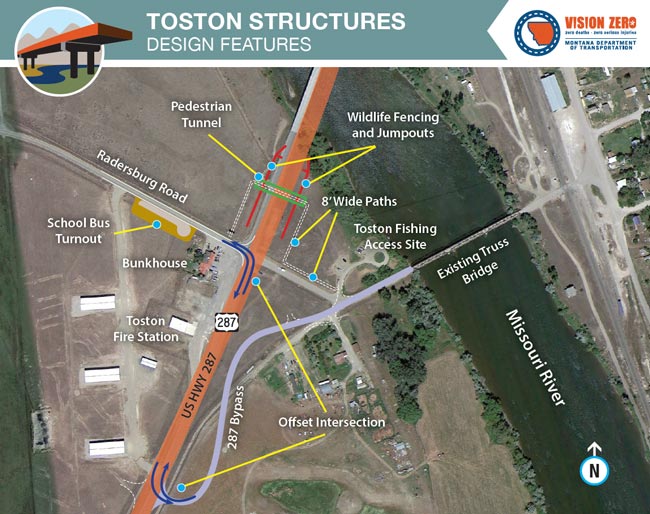 Comments
The Department welcomes your comments on the Toston Structures project.
Please feel free to submit comments:
Online:
Fill out the Comment Form.
Mail:
Montana Department of Transportation
PO Box 201001
Helena MT 59620-1001
Indicate comments are for project CN 7668.