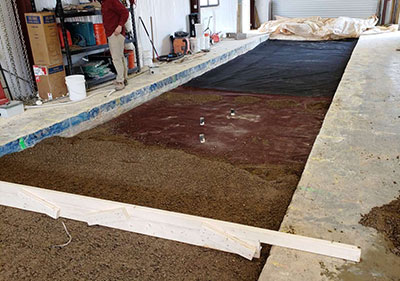 This project characterized the performance of geosynthetic-reinforced test sections when compared to an unreinforced case to assess benefit in terms of a reduction in the base course thickness, an extension of the life of the pavement, or the strengthening of the individual pavement layers. This objective was achieved through the construction of a single test track containing three test sections, a detailed analysis and synthesis of the results, and the evaluation of an analytical design tool to be used by pavement engineers to design geosynthetic-reinforced pavements.
Given the common use of geotextiles in the state for stabilization and separation, MDT was interested in studying whether geotextiles commonly used in the state for stabilization and separation also provide a reinforcement function for typical Montana rural low-volume highway conditions. Documentation of reinforcement benefit for geotextiles commonly used by MDT for typical low-volume highway conditions was not available in the literature. The majority of studies available focus on the use of geogrids for reinforcement. Many studies also use subgrades that are weaker than typical design values applicable to Montana roadways.
MDT initiated this project to experimentally document reinforcement benefit for conditions commonly encountered in Montana roadways. A spreadsheet design model for geosynthetic reinforcement was previously developed for MDT. MDT was interested in further validation of this model and updating this model to a current version of Excel.
MSU-GRFP Design Model (Excel spreadsheet)
Reports
Final Report
Final Presentation
Project Summary Report
Implementation Report