Highway 78 – Red Lodge to Luther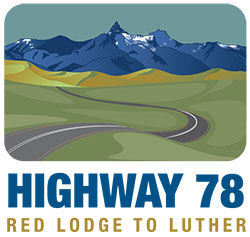 Project Overview
Montana is rich in miles of mountainous roadway. Residents and travelers of Montana Highway 78 are no stranger to these scenic roads as the highway twists and turns through the foothills of the Beartooth Mountains.
While beautiful and iconic, this steep corridor can also create safety concerns. To make this rural roadway safer for residents and visitors, the Montana Department of Transportation (MDT) is in the process of designing two adjacent projects known as the Highway 78 – Red Lodge to Luther projects. This work will reduce the roller coaster hill effect experienced when driving this roadway and increase sight distance.
The projects begin five miles northwest of Red Lodge past Summit Lane, and end east of Butcher Creek Road near Luther, Montana. In total, 10.6 miles of roadway will be improved.
Project Limits Map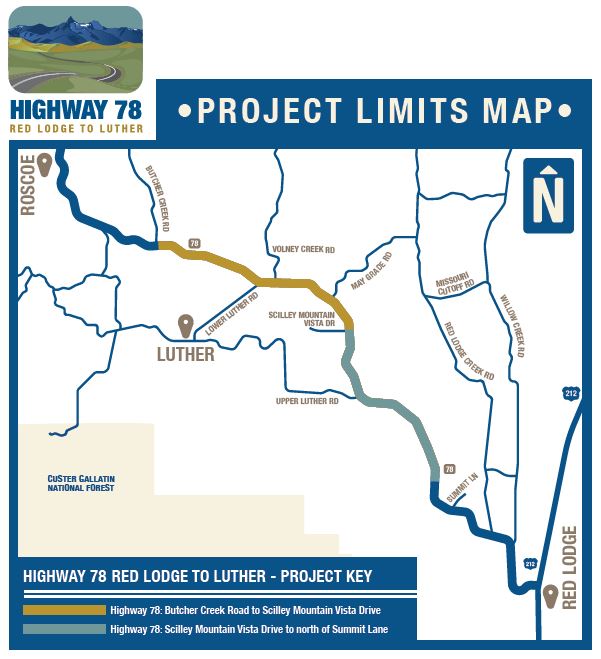 A safety solution is needed for Highway 78.
Montana Highway 78 has numerous areas where hills and valleys are steep. As a result of these steep grades, drivers have limited sight distance and limited time to react to upcoming obstacles. A corridor study performed in 2008 showed that 97 of 117 vertical curves – the steep way a road can rise and fall - do not meet the current design standard for minimum stopping sight distance. That's 82% of curves where drivers would benefit from a roadway reconstruction that would increase the time to see a potential hazard ahead.
The study also found that 51 of 55 passing areas do not meet the current design standard for minimum passing sight distance. Imagine coming up on a slow vehicle and not quite seeing beyond the hills ahead. As a driver, you have to guess if a vehicle is speeding quickly towards you in the oncoming lane. It may come as no surprise that this road has a crash rate 65% higher than the statewide average.
In addition to flattening grades and improving sight distance, MDT is planning to widen shoulders of the roadway by four feet on each side and add additional vehicle turnouts. MDT is also planning to replace the bridge crossing where West Red Lodge Creek flows underneath Highway 78, by Lower Luther Road.
Design & Construction
These projects are in the design phase so certain aspects could change. Public feedback plays a key role in this, helping MDT identify areas to modify. This integral part of roadway development requires a great deal of research; mapping and assessment of surrounding terrain (both above and below ground); determining the feasibility of construction features; and lastly, obtaining funding. Because of this, construction will not begin until at least 2025.
Even with this level of review, why can't construction start sooner?
First, the Montana Department of Transportation cares deeply about community input and it is crucial that the public is well-informed before moving forward with a design. MDT encourages this input while adjustments can be made. Though the budget might not accommodate every change, all ideas are welcome and considered. Without community input from the residents who use Highway 78, these projects could fail to meet key needs of daily users.
Second, all projects go through a rigorous process before they are ready for construction. Design work not only takes time to create and properly review, but it can change frequently depending on input from the public, internal feedback, and findings discovered during the design process.
Finding and crafting a solution that works for everyone takes time. In addition, the right-of-way phase includes negotiations with landowners to ensure MDT can secure any additional land necessary to improve the roadway. During this time, MDT works diligently to secure federal funding (which often covers 80-90% of the project) so Montanans don't bear the brunt of hefty construction costs.
All are strongly encouraged to share their opinions and feedback for Highway 78 improvements. As MDT moves forward with the best solution for the users of this corridor, local feedback is key.
In addition to sharing your thoughts, MDT wants to ensure you know how these projects are advancing. Questions or comments can be sent to:
Email: Contact to subscribe for updates, ask questions, or submit a comment
Project Hotline: 406-207-4484 during business hours
Mail: C/O Big Sky Public Relations, PO Box 732, Bozeman MT 59771