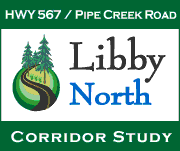 Design Underway to Resurface Pipe Creek Road North of Libby
Libby - The Montana Department of Transportation is preparing plans to resurface a section of Secondary 567 (Pipe Creek Road) in Lincoln County. The project begins at reference marker 7.0, about seven miles north of the intersection with Montana 37, just north of Libby; and extends northerly five miles to reference marker 12.0, just north of Noisy Creek Road.
The Libby - North Corridor Study, completed in 2007, recommended road improvements along the Pipe Creek Road corridor from reference marker 6.1 to reference marker 20.1 through a collaborative effort with MDT, the Kootenai National Forest, Lincoln County, resource agencies, and local citizens. The segment from reference marker 7 to reference marker 12 was programmed as the first segment to be constructed, based on limited availability of construction funding in the near future.
The purpose of the project is to upgrade the road to a modern, safe facility. The existing pavement will be pulverized and blended with new gravel to form a base for a new, slightly wider pavement. Embankments will be flattened, and roadside ditches enlarged to provide snow storage. Two short road segments, at reference marker 8 and reference marker 11, will be reconstructed to flatten the horizontal curves. Other work will include drainage, guardrail, topsoil and seeding, striping, signing, and delineation. There will be right-of-way acquisition and possibly utility relocation required.
The project is tentatively scheduled for construction beyond 2012, depending on completion of the design features and availability of funding.
For more information, please contact Shane Stack, Engineering Services Supervisor at 1-888-231-5819, Wayne Noem, Secondary Roads Engineer, 406-444-6109, or Project Design Engineer Bill Squires at 406-444-6228. For the hearing impaired, the TTY number is 406-444-7696 or 1-800-335-7592 or call the Montana Relay at 711. People may submit written comments to the Montana Department of Transportation, Missoula Office at PO Box 7030, Missoula, MT 59807-7039, or online by noting comments are for project UPN 4789.
Alternative accessible formats of pertinent information will be provided upon request.