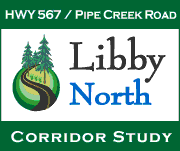 What is the purpose of this Corridor Planning Study?
The purpose of this study is to evaluate the existing conditions and determine if transportation improvements are needed to HWY 567/Pipe Creek Road. The planning process will consider the needs of local residents in Libby, Yaak, along with property owners in the area and the traveling public. Part of the planning process entails an assessment of the environmental surroundings of this road as well as the current condition, use and function, current and projected future traffic volumes, speed, wildlife crossings, and user safety. These findings will help determine any roadway deficiencies and guide the identification of any corridor improvements. The study will evaluate and recommend improvements if any are found to be needed and feasible.
What is the study area?
See Map
The study area encompasses the Hwy 567 between Bobtail Cutoff road and Turner Mountain Road, approximately mile post 6.1 to 20.1. This road is a primary access between Libby and Yaak.
How are community leaders and agencies involved in the study?
The planning process will be collaborative, involving area elected officials, resource agency representatives, special interest groups, user groups and landowners to ensure local perspectives are represented.
Who is the project management team?
The Montana Department of Transportation is the agency lead for this study. Parsons Brinckerhoff (PB), a national consulting firm with several regional offices, will lead a team of consultants to complete the study in the summer of 2007.
How will the results of the study be used?
The results of the study will be used to guide MDT and other local entities in planning improvements for HWY 567/Pipe Creek Road. Study recommendations may be integrated into MDT's and other local affected planning agencies transportation plans and programs based on funding availability. The results of the study will also provide information to support efforts to identify funding for future projects.
MDT and the project team will collect and consider all public comments received to better understand the public view of potential issues. MDT will then determine the next steps that best meets the study purpose and has the support of cooperating organizations, regulatory agencies, stakeholders, and the general public.
Who makes the decisions regarding the study?
The project team consists of individuals representing MDT, PB, and other consultants.Community input, traffic, engineering, environmental, economic information will be analyzed by the project team and recommendations will be formulated.MDT will subsequently make the final decision regarding recommended improvements based on available funding.