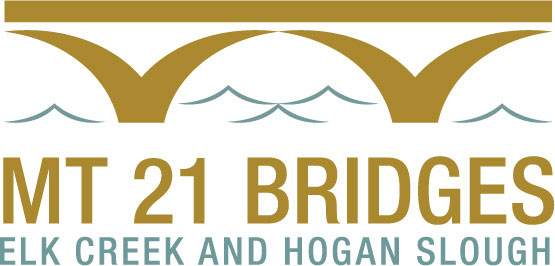 Project Overview
Design Overview
The Sun River and its system of creeks and sloughs are prone to flooding. This puts major pressure on the adjacent MT 21 highway. Alleviating all flooding on the highway can be difficult due to changing river flows, weather events, and available funding. As this funding has become available, the Montana Department of Transportation (MDT) has been able to make upgrades to better serve the community, freight haulers, and commuters. In 2020, MDT widened three bridges, upgraded an existing bridge, and installed three culverts all between Mileposts 9-20. The most recent project is to address Elk Creek and Hogan Slough between Mileposts 0.1-0.7. The engineering design is underway in 2021 with an estimated construction year of 2023.
Roadway Improvements and Safety
The Montana Department of Transportation is committed to transportation infrastructure that not only reduces the probability of crash frequency and severity but that provides value, economic benefits, and is environmentally sensitive. Serving Montanans and its commuters is the cornerstone of this mission. The MT 21 Elk Creek and Hogan Slough bridge project supports MDT's Vision Zero goal of ensuring that Montana's road systems are built and maintained with safety as the first concern.
Timeline
The engineering design began in early 2021. MDT will be involving the public keeping them abreast of the design progress. As traffic impacts are considered, the public is encouraged to weigh in on their preferred timing of the road closures estimated to occur in 2023.
Budget
The estimated construction cost has not yet been determined. Once complete in 2023 its residents, freight haulers, and commuters will enjoy better flood control measures at Elk Creek and Hogan Slough.
Staying in the Know
The Montana Department of Transportation recognizes the impacts on residents and travelers. We are committed to mitigating those challenges by involving the public in the decision-making process for detour timing and delivering timely updates through a variety of avenues.
For project updates: 24/7 project hotline: 406-213-9454