Development of Deterioration Curves for Bridge Elements in Montana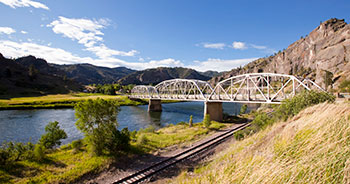 This proposed research is in response to the Federal Highway Administration's (FHWA's) objective of implementing a transportation management plan for the National Highway System (NHS). One of the standards that state departments of transportation must meet is the development and operation of a bridge management system that includes deterioration forecasting for all NHS bridge assets. The Montana Department of Transportation uses two analysis programs for this purpose: the FHWA's National Bridge Investment Analysis System (NBIAS) and the Bridge Data Analytics Tool, which is currently under development. Both of these tools require deterioration curves for different bridge elements (bridge deck, superstructure and substructure). The objective of the proposed research is to 1) develop deterioration models specific to Montana's five transportation districts using inspection data related to time-dependent element deterioration, operation practices and annual average daily traffic, 2) identify existing or new data that could be used to improve the accuracy of the deterioration curves, and 3) compare the results from Montana-specific data with data from the National Bridge Inventory to identify similarities and differences in the deterioration models.
For more information, contact , 802-546-0217.