Kalispell Bypass
Thank you to those who attended our open houses. For those who were unable to tune in, the Foys Lake Road project team held two virtual open houses on Thursday, September 10. The Montana Department of Transportation (MDT), KLJ Engineering and LHC discussed plans for the intersection.
As many of you know, the current roundabout at Foys Lake Road will be removed and replaced with a full interchange. The Bypass will then carry high-speed highway traffic over Foys Lake Road. What may be new is the Foys Lake Road intersection configuration. Ramps will be constructed to facilitate northbound and southbound Bypass access to and from Foys Lake Road and two teardrop-shaped roundabouts will be constructed where these ramps intersect.
By removing the higher volume Bypass traffic from the roundabouts, the two proposed roundabouts will only carry local traffic volumes. The proposed design will reduce delays, provide a safer intersection and help facilitate the Valley View Drive Connection. The new facility will also be designed for semis and large vehicles to travel smoothly.
Construction will begin in March 2021 (weather dependent) with new roadways open officially in November of 2021. During construction, residents may experience short delays and use of single-lane flagging operations to facilitate traffic.
If you have any questions, please call 406-207-4484. Our project hotline is open for questions between 9 a.m. and 5 p.m., Monday through Friday. You are also welcome to contact Becca via .
Project Overview
On January 30, 2020 The Montana Department of Transportation held the first open house for the upcoming Kalispell Bypass projects. The public was invited to review alternatives for the southern portion of the Bypass, including the intersections of Basecamp Drive and Airport Road with the Kalispell Bypass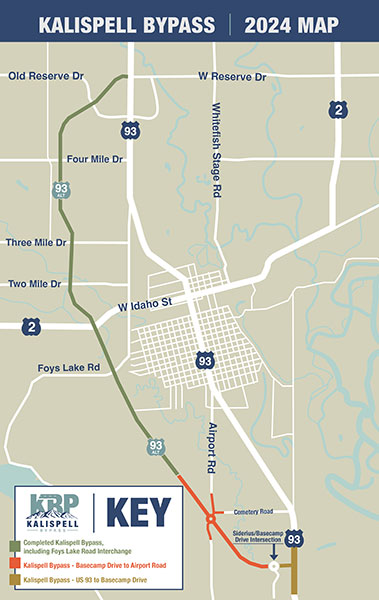 Project Information
The Montana Department of Transportation (MDT) has hired the engineering firm, KLJ, to study and design 1.5 miles of the Kalispell Bypass. As part of this community-wide project in the Flathead Valley, crews will be studying and evaluating how the Airport Road and Siderius intersections may be rebuilt to better facilitate increasing traffic volumes. To make these determinations, traffic data will be collected. The public will have ample opportunities to share their feedback and stay up-to-date on the project.
Note that this particular project does not include the Foys Lake Road intersection, as that is a separate project MDT is currently planning to begin construction in the fall of 2020.
The existing bypass is an eight-mile stretch of roadway that was designed as a four-lane westside bypass to provide an additional high-volume route for residents and travelers to divert around the center of Kalispell. The southern-most three miles were built in an "interim" configuration which provided two lanes and roundabouts at public road intersections.
The southern section, from Siderius Roundabout to south of US Highway 2 was originally constructed as an interim project (with only two lanes of traffic) and always was planned to be widened when funding was available.
MDT now plans to convert the southern section to a four-lane roadway with studies set to determine the future of the existing roundabout at the Siderius interchange.
In addition to these interchanges, the Bypass will provide two additional travel lanes, a new bridge carrying Airport Road over the Bypass. The existing pathway will be maintained at its current location and is expected to be open during construction unless a short closure is needed for safety reasons.
The first segment of the Bypass opened to carry traffic to the new Glacier High School in 2008. Initial construction began with the road now known as Old Reserve Drive, with the full Bypass carrying traffic around Kalispell beginning in October 2016.
This is the point where we are today.
Timing
MDT consultants are currently in the process of study and evaluating the Airport Road and Siderius intersections. The goal is to have alternatives available for the public to review on in late fall of 2019, as engineering studies will be completed. These will be the directing documents that shape the future of both the Airport Road and Siderius intersections.
Throughout this development, community partners such as Flathead County, the City of Kalispell, emergency responders, local businesses, and local landowners, will be sharing their feedback to guide MDT to the recommended plan for construction.
At this time, MDT anticipates that construction of the preferred alternative on US 93 at the Airport Road and Siderius interchanges could begin in the coming years.
Stay in the Know
We know the Kalispell Bypass is important to you. That's why we want to make sure you have several ways to stay engaged with us throughout the course of this project. Please sign up for updates or give us a call at any time. We're listening and we care.
Email a question or request for updates to .
Call the project hotline, Monday - Friday, 9 a.m. – 5 p.m., at 406-207-4484.